Terms & Conditions

for watersports training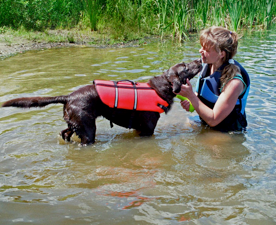 Watersports is a leash-free, choice based, dog/handler team sport.  Our instructors teach and demonstrate benevolent leadership, "choice" scenarios and positive reinforcement to establish and build canine water behaviors. Our students attain canine attentiveness, reliability,  trust and desire by reinforcing cooperation, curiosity and playfulness. Dogs have the right to seek safety and to feel safe while learning or working, especially in water. Thus they have the right NOT to cooperate. Diminishing this right in anyway  serves to generate fear, hinder learning, promote water avoidance and erode trust. Trainers who gravitate toward dominance/compulsion based training methods  may not be comfortable in our programs. Trainers who seek volunteered cooperation through play to build creativity, curiosity and handler focus will be very comfortable in our programs.

Handlers shall be a minimum of 18 years of age and able to swim while wearing a life jacket.  Handler's with disabilities are welcome, provided the handler can swim while wearing a life jacket.  Program fees do not cover the costs for a personal or specialized assistant to a handler with a disability.  There is no additional registration fee for an accompanying assistant, but assistants are required to sign a separate registration waiver.  Assistants shall wear specified safety equipment in and on the water and adhere to all safety rules and conditions.

Dogs shall be in good health and a minimum of 12 weeks old for eligibility to group water training programs.  Dogs must be able to demonstrate social tolerance for other dogs and people.  Dogs who demonstrate inappropriate growling, snapping or who make aggressive contact with people or dogs may be asked to leave the program or event.  CWS instructors (and or water event secretaries and judges), will determine what is inappropriate.  Please ask about private lessons if you own a dog who is intolerant of other dogs.

Bitches may not participate in a CWS training program while they are in season and highly attractive to other dogs.  Handlers are welcome to bring an eligible replacement dog if their bitch unexpectedly comes into season.

Under state health law all dogs must be vaccinated against Rabies.  Please protect yourself by carrying a copy of your dog's vaccination records when traveling away from home.  CWS recommends you consult your veterinarian for health concerns your dog may encounter prior to attending a watersports training program or testing event.  Ticks are common around water areas, changes in your dog's working attitude, movement or stamina should immediately raise concern for tick born diseases.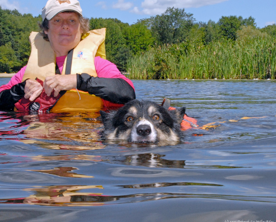 While in the water canine neckwear, including a collar, is prohibited. Canine life jackets  are mandatory for all watersports training programs, except for (full body dive) submersion programs where the dog shall wear a non-restrictive (tracking style) harness in place of the life jacket.  Watersports leads may be attached only to the harness or lifejacket.  (Watersports leads have no handles, are under five feet in length and float.)  Watersports leads may be used to prevent canine rudeness or unsafe behavior; however, leads are never used to compel dogs to enter or work in the water.

Program fees are non-refundable and non transferable. Fees cover one handler and one dog, additional family members and dogs must maintain a respectful distance from the lecture and training areas.  Handlers wishing to work additional dogs must register each dog as a new team.

Rain shall not be grounds for cancellation, however thunderstorms or lightening shall be cause for delay or rescheduling of training programs and testing events.